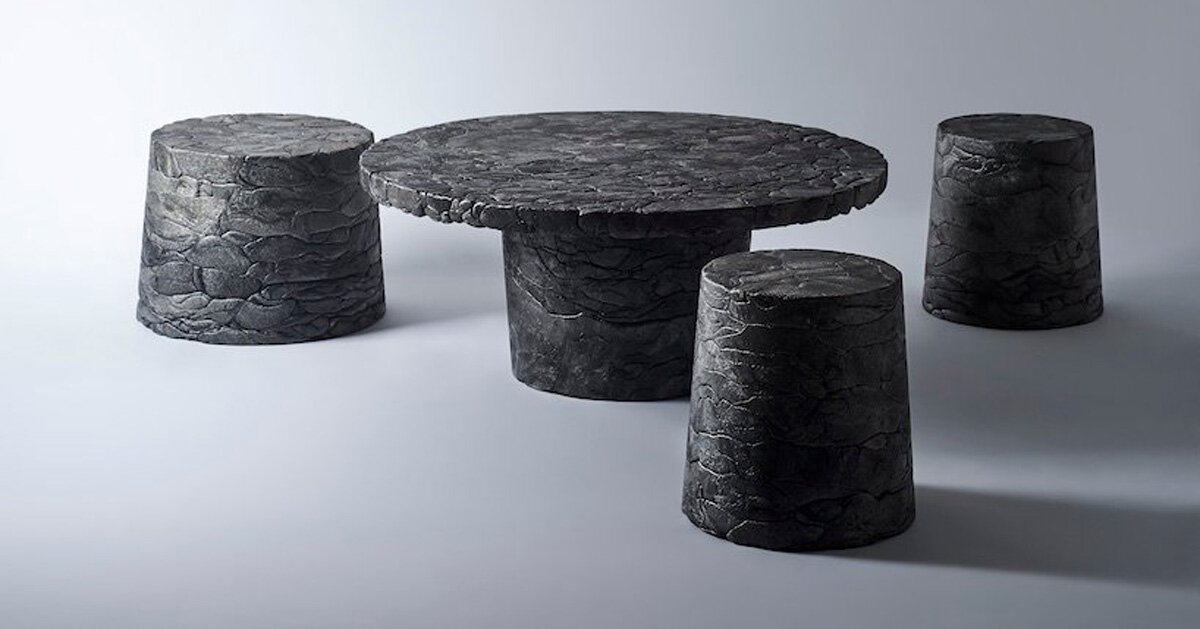 we+ recycles styrofoam waste into dark, monolithic furniture
we+ simplifies recycling processes with polystyrene furniture
After the launch of their Urban Origin collection with the Haze copper wire series, contemporary design studio based in Tokyo us+ returns with the second series of the collection, Refoam. Giving shape to new perspectives and values ​​through the design project, Refoam presents polystyrene furniture, including the tables, saddles and benches, which attempt to reframe today's inappropriate and overly complex relationship between man and matter. The project transforms a typical recycling process into a new way of making furniture. Adopting a simplified, efficient and environmentally friendly approach recycling process, we+ eliminates the need to transport materials and products for recycling and manufacturing. Instead, the project tackles a mountain of polystyrene waste in Tokyo, transforming it into usable new products – right at the site of an intermediate processing plant.
all images by Masayuki Hayashi
refoam assigns new values ​​to polystyrene waste
we+'s Urban Origin research project examines the origins of overly complicated manufacturing processes in modern society and re-evaluates the mass waste produced by cities as indigenous materials. The new Refoam project returns to the starting point of the relationship between humans and materials – using vernacular materials and simply processing them with our own hands – and explores new values ​​for polystyrene foam. The furniture collection takes the form of recycled Styrofoam waste that is collected and reused in Tokyo, materializing as dark, minimalist monolithic benches, stools and tables that retain the texture of compressed Styrofoam. Considering Tokyo as the origin of the materials used, the Japanese design workshop simplifies the recycling process by making furniture directly from waste as an end product at the intermediate processing plant site, giving a completely different value to the material.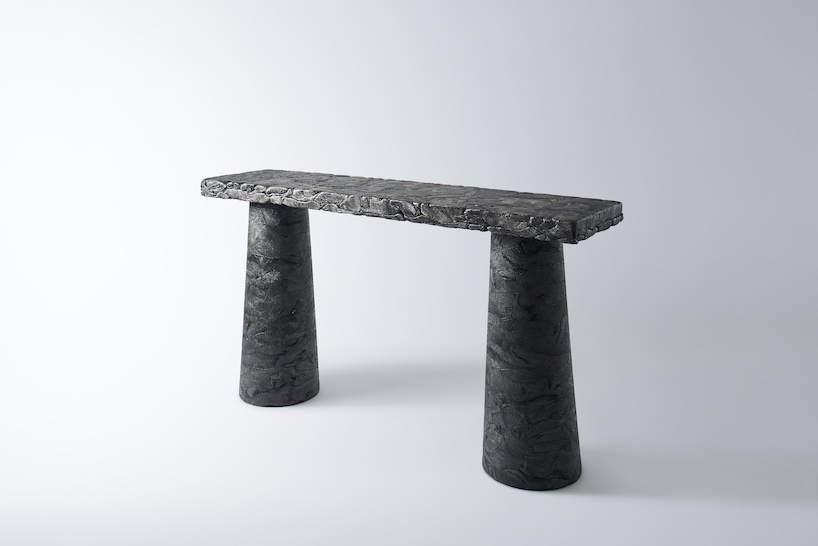 we+ returns with the second series of the Urban Origin collection with Refoam
the second series of the urban origin collection
In Tokyo and its suburbs, polystyrene foam is commonly melted into ingots in intermediate processing plants and then exported to Europe and Southeast Asia. Here. they are transformed into pellets and then into cheap recycled products, mainly from China. In Japan, these products are usually sold in stores at 100 yen.
Although recycling rates are high, the process remains very complex. Moreover, the process and scale of transport between countries remains extremely harmful to the environment and consumes a lot of time and energy. With Refoam, we+ is therefore exploring the possibility of using intermediate processing plants to manufacture furniture directly as a finished product, instead of ingots which are transported around the world to manufacturing sites.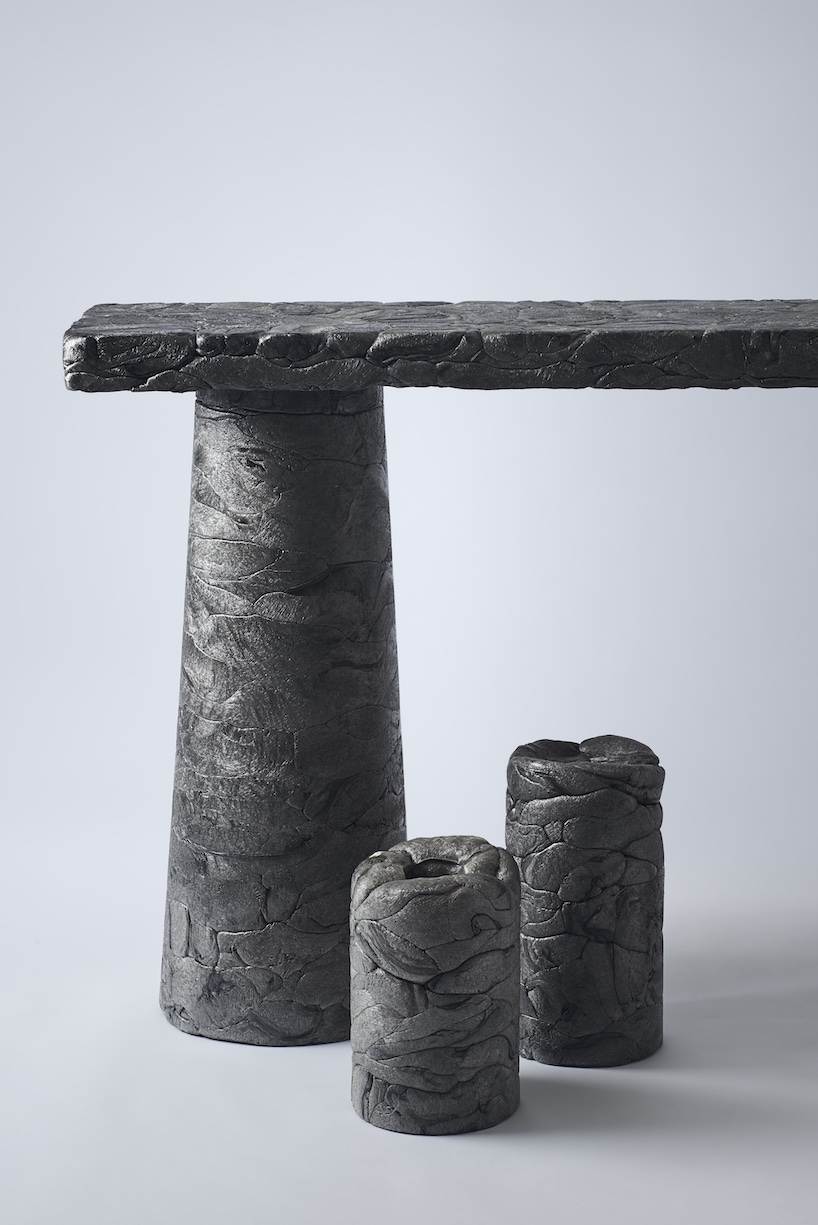 furniture collection recycles and reuses polystyrene waste collected in Tokyo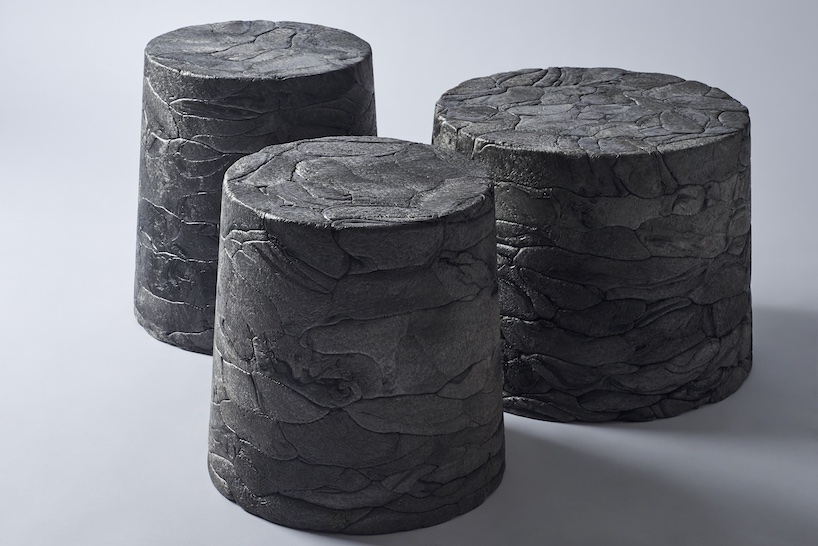 dark, minimalist, monolithic benches, stools and tables retain the texture of compressed polystyrene foam