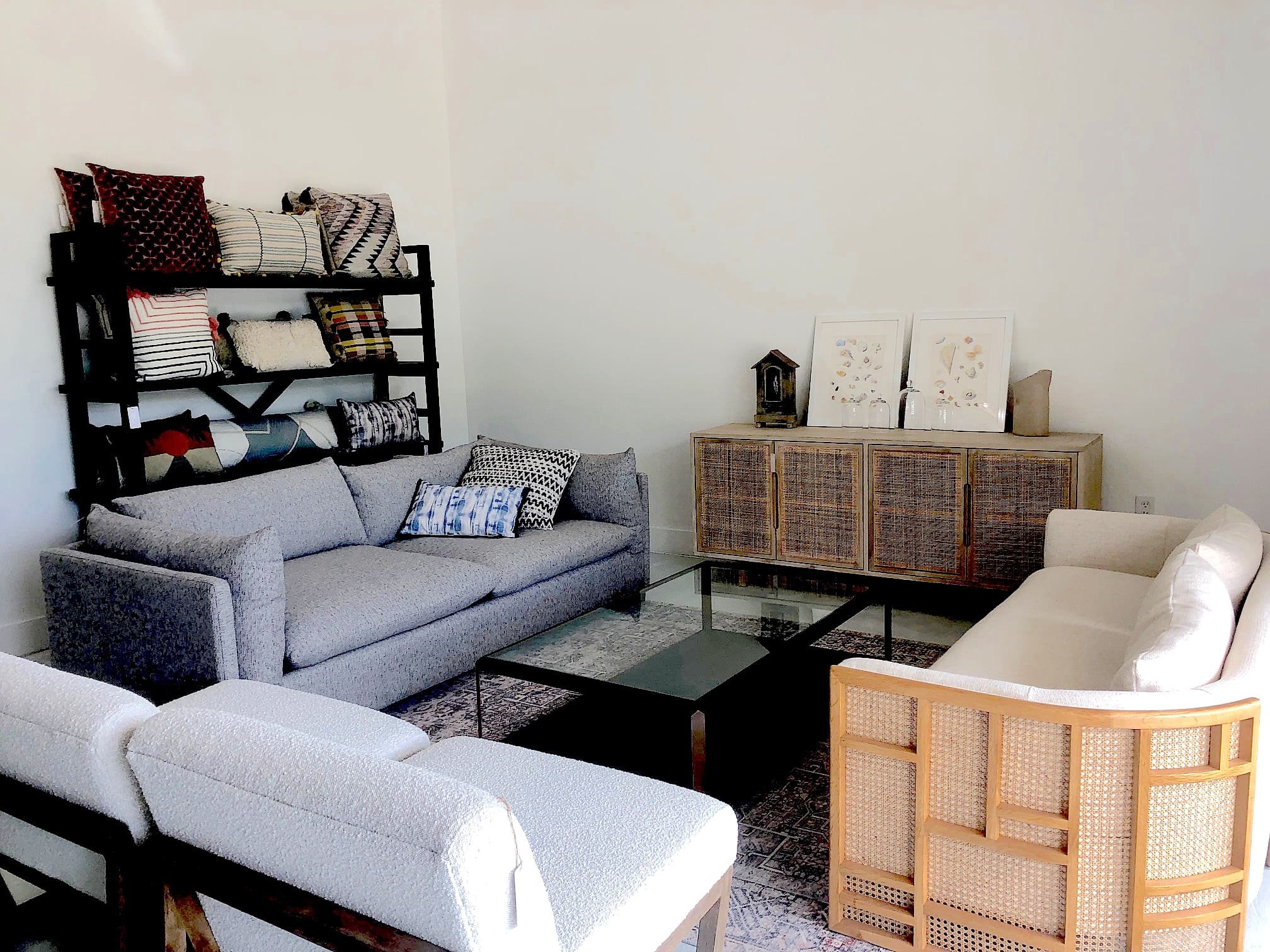 Seachange arrives in St. Thomas with totally modern furniture
While "change at sea" typically refers to a paradigm shift or dramatic transition, entrepreneurs Ginny and Grant Maxwell have subtly tweaked the term by giving their new furniture store the singular name of Seachange. "We chose Seachange because we love the ocean," Ginny said. Despite an inventory of fully modern furniture – a radical departure from typical businesses – Ginny's passion for the ocean runs deep. "I was born and raised in Saint-Thomas," she said. Growing up in the 1980s, Ginny vividly remembered the happy days on sunny shores.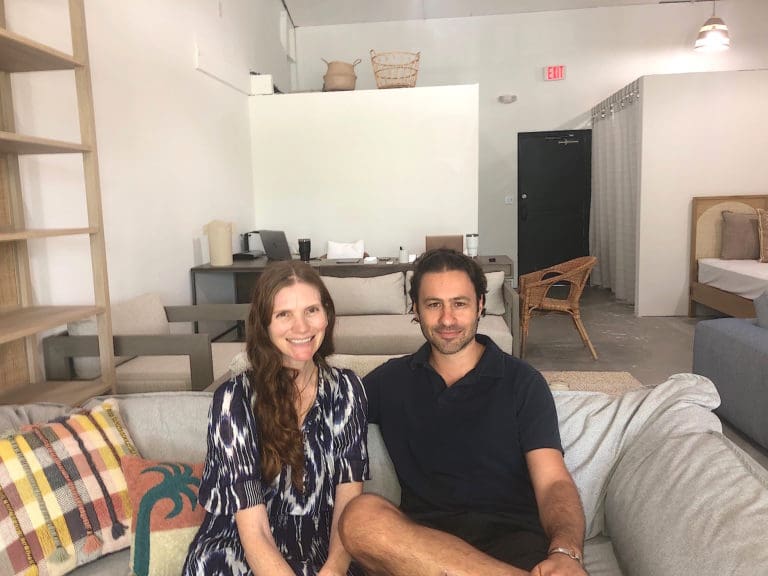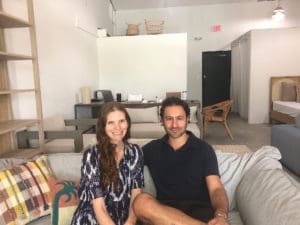 A glimpse into family history revealed that his father, Don Edwards, moved from the mainland in 1967, establishing himself as a pioneer of surf culture in Hull Bay. A talented musician, he still performs today with the local group "GroundSea".
Ginny's mother, Susan Edwards, teaches art classes at the University of the Virgin Islands and her works are on display at Seachange. Although Ginny's life journey took her from Italy to Tennessee to New York, where she studied photography at the Fashion Institute of Technology, she returned to St. Thomas on several occasions. Each time, the island has benefited from his expertise. Early in her career, Ginny taught art at the Antilles School, replacing Karen Bertrand when the beloved educator took a year off.
As a freelance photographer, Ginny's work with a local agency has led to the discovery of several top St. Thomas models, including Lana Winter and Hannah Davis Jeter. Eventually, Ginny became one of the most successful Girl Scouts and Model Managers in the country. Comparing this role to her new retail business, Ginny said, "Believe it or not, there are some similarities. The principles of beauty are the same.
Ginny pointed out that her reverence for tropical living had prompted her to consider a new approach to selling furniture. "I didn't want to represent furniture that rivals Mother Nature or clashes with the aesthetics of the island," she said.
Therefore, Seachange's selections feature modern, understated shapes in neutral tones with colorful accents on woven cushions and rugs. Said Ginny, "Our furniture comes from all over the world, but we try to source as much as possible from the United States."
At Seachange, the shopping experience ranges from showroom options to immediate purchases.
"We're not just a showroom, we're a retail store," Ginny said.
Whether decorating a room or furnishing an estate, an exciting 'plus' factor for customers is additional design assistance and advice on request.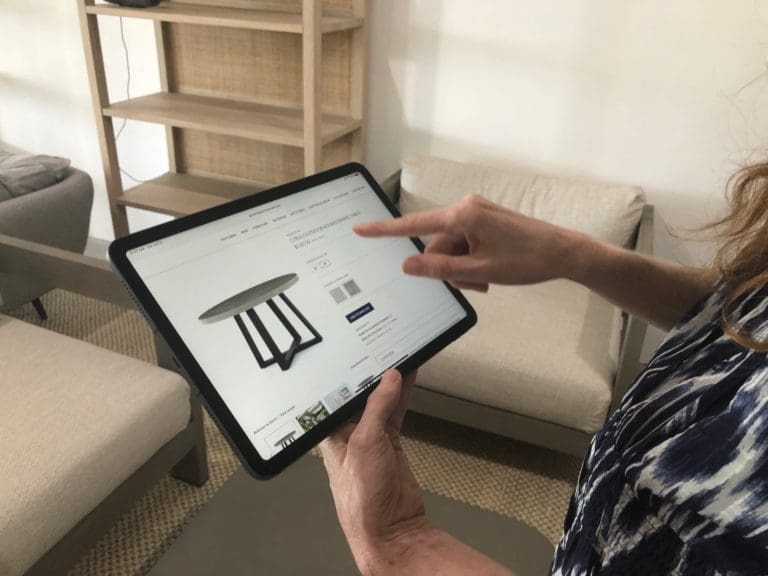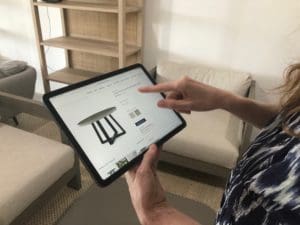 Additionally, customers are encouraged to check stock status and delivery date via the easy-to-navigate in-store iPad.
For villa owners and property managers, Seachange offers complete villa packages including dishes and linens. Stoneware and porcelain pieces by St. Thomas artist Jessica Rosenberg are featured at Seachange.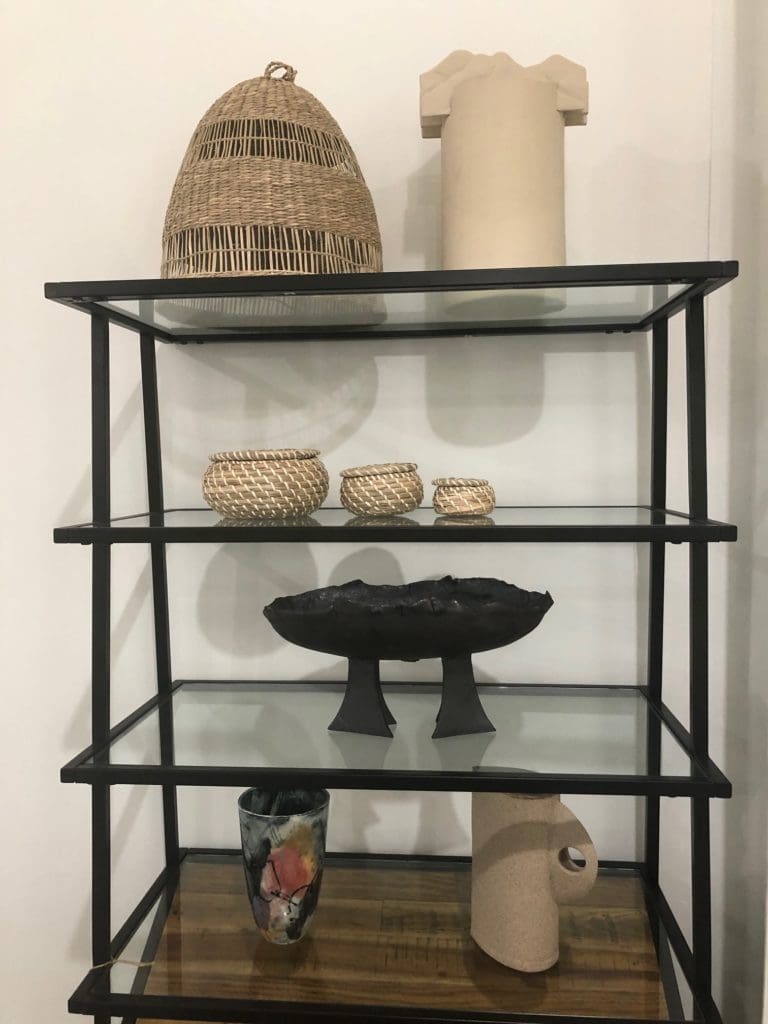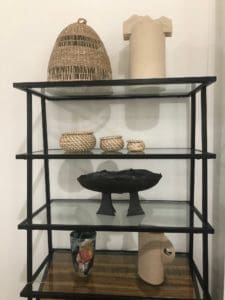 Seachange's motto, "Living Beautifully", seems quite apt for the nicely understated business. Ginny was quick to thank local designer Fianna Fluess for her help in this area. "Fianna does all of our branding," Ginny said.
Logistics are essential when it comes to keeping Seachange shipping smoothly. This department is headed by Grant. In addition to obtaining a doctorate in philosophy, Grant has written several books on the subject and is an accomplished musician.
Asked about his recent career change, he said: "I like helping people and seeing real results. It is very rewarding. In his spare time, Grant plays guitar and sings in local band Lovewolf.
Regarding the move to St. Thomas, Grant explained that he and Ginny and their two sons – Mason, 11, and Dylan, five – lived in Nashville but were considering a return to New York, the place where the couple met for the first time. "When COVID arrived, it was a blessing in disguise. It prompted us to re-evaluate everything, "he said.
With a smile, Ginny added, "I used to tell the kids that I grew up in St. Thomas… dolphin sightings, genius picking. Now they are experiencing it for themselves. Seachange is located at Crossroads Center between Smith Bay and Red Hook. "We're so happy to have found this place," Ginny said. "It's different from other businesses and we have lots of parking spaces. For more information, visit seachangevi.com or call 340-998-0388.