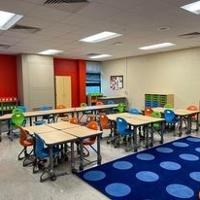 School board talks ramp up for Williamsburg superintendent | Local News
WILLIAMSBURG — The Williamsburg Independent School Board is happy enough with Superintendent Tim Melton's performance to consider ways to give him a raise.
Board members discussed putting a raise and/or contract extension on next month's agenda on Tuesday during the board members' comments section of the meeting's agenda. the meeting.
"Mr. Melton had a good assessment from us. I think as a board we are interested in amending this contract and speaking to our legal counsel," said member Kari Hamblin.
Council legal counsel Paul Croley said there are a number of ways Melton can get a raise. The first would be an increase based on work performance and its evaluation. Another option would be an annual increase specified in a modified contract. Melton has one year left on his current contract but the board could make changes such as extending him. Another would be annual increases.
If the board extends Supt. Melton's contract, then they would need to do some additional research on legalities and procedures.
"I think a yearly raise would be best," Croley said, adding when asked to clarify, "You could change the current contract and provide for a raise. That would be effective with full board approval. administration.
In other business, Principal Marc Taylor rose to address the board about some upcoming changes to the school for the new school year.
"We have worked all year to ensure that the 2022-2023 school year will start very quickly. We're looking to get started in a way that will give us momentum for the school year," Taylor said, after mentioning the furniture updates in WISB's elementary school section. "We are very satisfied."
They have hired new teachers and are working to get the school ready for students when they return to class on August 31.
Principal Taylor revealed that the school was busy assembling new furniture for the primary classrooms during the hearing of council delegations. As a community, students and even retired staff came together to help assemble the furniture.
"It will be very exciting for teachers and students," Taylor said, adding that the project has made some classes bigger.
Another item on the agenda was to discuss the extension of contract days for the agricultural post to 240 days. The extension of the contract would also allow the agriculture students and the teacher to undertake a special project where they would work together all summer long. An example of such a project could be growing vegetables and fruits or working with any livestock the student may have.
The board adopted the recommendation, believing it was important for agriculture and FMLA students.
In other approved and past articles:
• The employee manual. They added Memorial Day to the holiday. The state also recently added quarantine days for those who may need to go on COVID leave to allow an additional 10 days for those who no longer have sick leave but are still required to quarantine. Since this is a state-influenced action, WISD should comply with this policy.
• The Board approved the SRO (school resource) contract between the City of Williamsburg Police Department and WISD for two SROs for the school year.
• Council briefly discussed finding and hiring an architect to do renovations at Ralph/Prewitt/Finley Legion Field Rose-Stanfill. The board has not made any firm decision on hiring an architect, but is open to finding someone. Melton would like to update the bleachers and lights.
• The school will also make every effort not to allow students or staff to charge for meals for the new school year to avoid incurring debt for the food services budget. Parents will be able to pay in advance for their children to have meals or à la carte.
• There was an update to the 504 procedures, which are for Americans with disabilities. If a student breaks an arm, for example, they can get help taking notes. Yet 504 goes beyond that, covering students with anxiety, diabetes, and sometimes dietary needs. Students may devote more time to homework if anxiety prevents them from doing the work, for example. The procedural update was intended to expand the definition of a parent, such as foster parents, to better help children.
• Chelsy Tyree, the occupational therapist, comes to the school twice a week to provide services to the students. The board approved Tyree's deal with WISD, including a $5-a-day increase in his salary.
• Reba Moore was the school psychologist for many years and is now semi-retired although she still works for WISD. The school would need a test kit so they could continue working with the children. The board approved the agreement between the school and Moore to continue providing his services to the school.